DM–200 Stericlean See-Through Talk Through Voice Communicator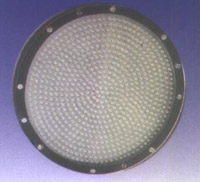 A useful device for clean room application, it help a person to communicate and see another person standing in clean room thus avoiding any contamination. Mechanical see-through device works on the principle of sound vibrations. When a person stands near the voice communicator & talks through it to another person on other side, the see-through-membrane (transparent membrane) of the voice communicator vibrates & transfer the sound to the other person & he can easily hear the voice. He can also see the person with whom he is talking. It can be used from both sides. A buzzer can optionally be installed to signal to the person in the clean room to whom one has to talk or vice versa. It is very compact & aesthetically designed device and is economically priced.


---
DM–209 Differential Pressure M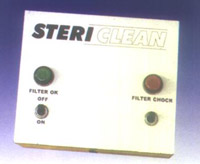 anometer (Electronic)



Very useful for sounding an audio alarm at a pre set pressure (5 to 50 mm WG). It is useful for all type of laminar flow clean air equipment & AHU. It can be set to give alarm at the time of choking of HEPA filter thus facilitating changing of filter at appropriate to avoid failure of experiment in contaminated environment in clean air bench. The alarm buzzer can be remotely fixed. It obviates the use of conventional Manometer which requiring use of Manometer liquid and is difficult to handle. It senses the pressure & actuates the alarm at pre set pressure between 5 to 50 mm WG.




---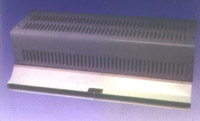 Aesthetically designed with the latest technology. This is an ideal solution wherever transparent air insulation/barrier/curtain is required. Most common application areas include Air Conditioned Showrooms, Restaurants, Hotels, Hospitals, Computer Rooms, Cinema Halls, Pharmaceuticals, Biological & Electronic Industries. It provides an effective insulation to conserve energy by preventing temperature loss in controlled atmosphere areas and maintains a high level of cleanliness by inhibiting the movement of dust particles across it. It consists of a sturdy heavy duty line flow fan counterbalanced for vibration free operation and a sturdy, thick PCRC sheet duly powder coated body with clamps to mount on the wall or door panel.
It gives a thick air curtain with total air flow capacity varying according to the size depicted as follows. Supplied complete with Cord & Plugs. Suitable to work on 220 V, single phase, 50 Hz, AC supply.



| | |
| --- | --- |
| Model | Door Width |
| YAC–2 | 600 mm |
| YAC–3 | 900 mm |
| YAC–4 | 1200 mm |
| YAC–5 | 1500 mm |
| YAC–6 | 1800 mm |
---