YSI–443 York Plant Growth Chamber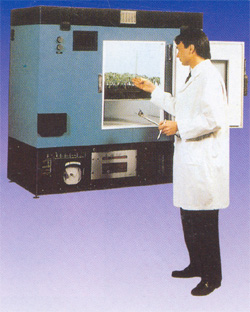 State-of-the-art equipment for Plant growth and animal studies. Provision for light, temperature and humidity are made to test plant growth and analyse their flowering cycle.
Inner chamber made of S.S. 304 and outer of thick cold rolled steel
duly pretreated & powder coated. 75 mm thick glass wool of high density is sandwiched between the two walls to provide insulation.
A see through window is provided for inspection of plants. Heating
is controlled by solid state digital temp controller cum indicator to maintain temp. between 15°C to 50°C. A 7 days programmable timer is provided.
Cooling is maintained by hermetically sealed compressor. Provision for 50,000 lux is provided with a mixture of incandescent lamp & fluorescent light to give effect of day light, whereas humidity is controlled from 55% to 95% ± 5% by humidistat.

Chamber Volume :– 10, 20, 30, 45, 50 Cuft.



---
YSI–444 York Walk-In-Incubator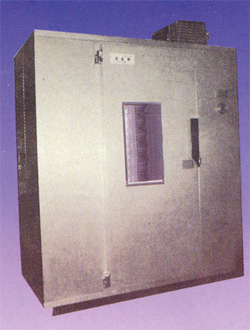 Temp. range 5°C above ambient to 60°C ± 1°C. Designed for vast number of incubation applications, can be installed even in hallway room or wherever convenient.
Design features includes enamelled steel exterior, aluminium or S.S. interior, ventilators, internal lighting, exhaust fan etc. Suitably insulated, 300 mm sq. inspection window at the door permits inside view without opening the door.
Complete with panel, housing all controls, circulating fan. Temperature indicator cum Controller etc. Supplied factory assembled, complete with cord and plug, to work on 220 Volts, 1 Ph, 50 Hz AC supply.

Available in following chamber size :–
W × H × D
1.1 × 2.3 × 1.1 mts

YSI–445 Same as YSI-444 but with controlled Humidity upto 95% ± 5%.
YSI–446 Same as YSI-445 but temp. Range from 10°C to 60°C.



---